Medic One Foundation
Submitted by akarpy on Fri, 07/23/2010 - 13:29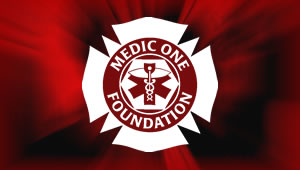 WE ARE THE MEDIC ONE FOUNDATION
For more than three decades, the Medic One Foundation has been the primary support for the research, paramedic training, and medical review behind the Medic One response system. In that time, Medic One's reputation for innovation and excellence in pre-hospital emergency care has grown worldwide, and thousands of survivors in the Puget Sound area have become the living proof of a remarkable vision.
ALWAYS ALERT
And we know it's working. Medic One consistently achieves patient survival rates that are the gold standard for emergency medical care in the United States. The resuscitation rate for witnessed and shockable sudden cardiac arrest in King County is 62%—more than twice that of most cities. At Medic One, the goal of "always staying alert to the possibility of saving a life" begins with paramedic training. Medic One Foundation funding ensures that paramedic students acquire 2,500 hours of instruction, nearly twice the national standard. As this learning extends into the field, Medic One students work alongside many of the same medical professionals they learn from in the classroom, and experience more than three times the national average for patient contacts. As Medic One Medical Director Dr. Michael Copass says, "The Foundation guarantees that every individual is trained to the highest level possible. It allows us to ask more of our paramedics than any other program."
ALWAYS INNOVATING
Yet as proud as we are that Medic One continues to redefine standards for pre-hospital care, we strongly believe that a 62% survival rate is not good enough. That's why the Medic One Foundation also funds critical research to improve emergency medical services and prevent sudden cardiac death.
The most promising Foundation-funded projects—those most relevant to the way emergency care is provided in our
communities—benefit from a unique proving ground. Working with the physicians, medical centers and fire departments that support Medic One, we're able to unite our research efforts with a program of intensive monitoring and evaluation of paramedic performance. The result is an extraordinary feedback loop between doctors and medics that creates constant opportunity to improve procedures and test new ideas. It's where countless improvements in quality of care have had their start, from our early advances in response time to our role in bringing CPR training to the residents of our communities. And it's where we'll develop the new approaches and protocols—some of which already are in pilot studies at hospitals and in the field—that may save more lives.
WE NEED YOUR HELP
Unlike Medic One, which relies on a voter-approved levy to fund vehicles, salaries and equipment, the Medic One Foundation receives no government or tax-based support. Every dollar contributed to the Foundation comes from people like you—people who know that someday, they or someone they love may depend on the care that arrives in that big red truck.
Your contribution will allow us to continue the innovative research, training, and medical review that have set the world's highest standard for pre-hospital emergency care, right here in the Puget Sound area. Put simply, your gift will save lives, and we thank you for it. Please visit our Web site to find out how you can help us further our mission.