Continuing Education
Submitted by akarpy on Fri, 07/23/2010 - 13:31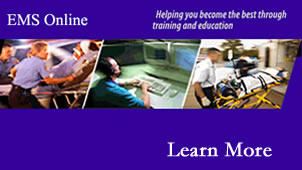 It is with great pleasure we direct you to our partners who provide the highest quality EMS continuing education available.
EMS Online is a dynamic, highly interactive e-learning approach to the CBT/OTEP method of education. This program is designed and built by EMS professionals for EMS professionals. We believe the incorporation of EMS Online within a department will allow the EMS providers more opportunity for hands-on skill evaluations, which is the true model for CBT/OTEP education. Additionally, instructors will have more time to incorporate individual department's protocols/procedures and at the same time, maintain CBT/OTEP requirements for EMT recertification.
It is their goal, by offering EMS Online to the entire state of Washington, to have an opportunity to share a standardized, highly effective method of education currently being used by more than 8,500 EMTs across the state. By offering EMTs consistent up-to-date educational content in an e-learning format that is available state wide, the citizens of your community and surrounding communities will clearly benefit from the continuity of care they will receive.
________________________________________________________________________________
The goal of the Resuscitation Academy is designed to help EMS managers and medical program directors improve cardiac arrest survival in their communities. Leaders from University of Washington Paramedic Training, Seattle Fire Department and King County EMS host an intense four-day program that will transform the way EMS systems manage cardiac arrest. We invite you to click on the following link to find out more about this unique opportunity.