Paramedic Training
Submitted by akarpy on Fri, 07/23/2010 - 13:22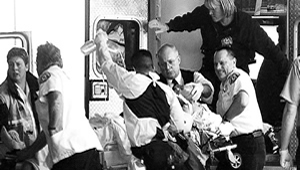 The University of Washington's involvement in paramedic education began in 1969 when a small group of Seattle physicians led by Dr. Leonard A. Cobb, a UW Professor of Medicine and Cardiologist at Harborview Medical Center, recognized the potential for saving the lives of heart attack victims in the streets of the communities.
In order to accomplish this, they knew it would be necessary to train and equip a group of providers to perform medical procedures in the pre-hospital setting. This began as a collaborative effort with the Seattle Fire Department and is currently enjoying its 5th decade of partnership with Dr. Michael Sayre now at the helm. The very first class of students consisted of 15 Seattle Fire Department personnel. This class was designed to provide pre-hospital treatment of patients with cardiac complaints. The students learned the essentials of coronary care. The course included 200 hours of classroom instruction and 700 hours of internship at Harborview Medical Center under physician supervision. March 7, 1970 marked the first day of operation for Seattle Fire Department paramedics. Washington State law at the time required that paramedics be accompanied by a physician on every emergency call.
Shortly after its inception, Medic One began to produce positive results. Patients who were dead on the paramedics' arrival were successfully resuscitated, hospitalized, and eventually released from the hospital. With its growing success, the leaders of Medic One elected to use their knowledge gained in cardiac care and expand the paramedic's scope to include critical situations where paramedics could make a difference in survival and quality of life. This led to an expansion of paramedic training to include all types of medical emergencies that occur in the pre-hospital setting.
By 1972, the Paramedic Training Program had evolved into the entity that now exists. The program is a physician-led didactic training experience that also features extensive patient contact on Seattle Medic One vehicles and at many Seattle area hospitals. The University of Washington at Harborview Medical Center has been the regional training site for the paramedic training program since its inception. Changes in Washington State law in 1973 (RCW 18.71.200) gave the University of Washington School of Medicine the legal authority to certify paramedics. Today, we are an approved OTEP training program and our graduates are certified by the State of Washington.
With the program's growth over the past several decades, it has expanded its scope of influence to include students from all over Western Washington. With the completion of the class in 2016, 712 paramedics have graduated from the University of Washington School of Medicine Paramedic Training Program.